The Rise of Tablescapes
Oct 15, 2019, 12:00 PM
Tablescapes have become so popular in the design world and online. From dreamy Pinterest boards to amazing Instagram moments, table settings for weddings, birthdays and seasonal holidays have inspired homeowners to take their hosting skills to the next level. "Who doesn't love gathering around the table with friends for a meal?" says Jennifer Hughes, designer of the Dinner x Design feature this year at the Edmonton Fall Home Show. "Whether its a brunch with girlfriends, or a formal family dinner, tablescapes are a great way to truly set the mood of the party. People invest in beautiful dining tables these days which ends up being a focal point of the home, so it is definitely worth it to spend a little time and create a gorgeous tablescape to compliment its beauty."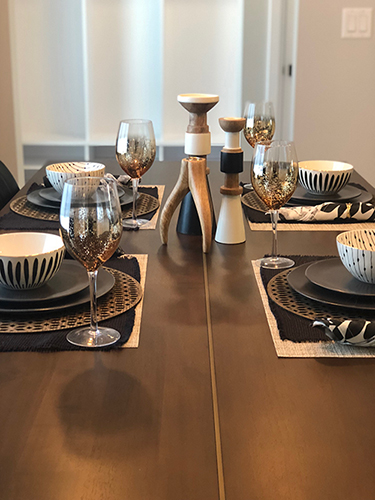 Thankfully, Jennifer has some simple tricks for homeowners to start taking their place settings skills to the next level.
Tip #1 Use what you have at home, scour your home for some cool pieces that could work in the center of your table.
Tip #2 Re-use! Find old mason jars or even old glass pop bottles and create a simple collection of vases with single stemmed flowers for that rustic minimal look.
Tip #3 Use old textiles or an old scarf and create a DIY tablecloth or table runner.
Tip #4 Collect materials from the outdoors of from your travels, it's nice to have a few pieces that create conversations about a trip you took and look great on your table at the same time. For example, bring home sun bleached driftwood from a trip you took out in Vancouver island mixed with some seashells on a decorative plate or bowl. Collect some pinecones and bark and put them in a clear glass bowl with other decorative balls.
She also suggests mixing and matching to create one of a kind tablescapes. "Don't be afraid to layer textiles when choosing your placemats and table runners." She also notes, "You can also add different heights, dimensions and shapes using candlesticks, vases, and chargers and mix patterns and play with sizes when it comes to plates and bowls.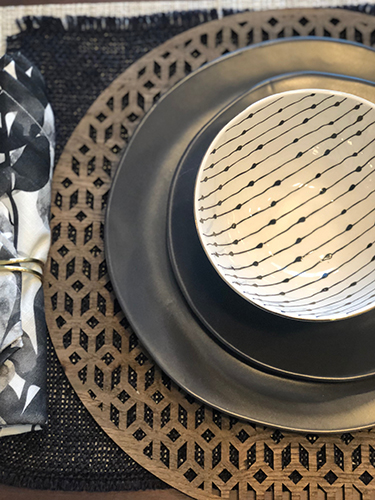 For more inspiration, head on over to the Edmonton Fall Home Show at the Edmonton Expo Centre October 18-20! You'll find hundreds of exhibitors, industry experts and some celebrity guests, ready to answer your hardest home improvement questions. For more information, and do buy tickets check out
www.edmontonfallhomeshow.com