Jamie Banfield: Top Design Trends
Oct 8, 2019, 15:37 PM
When it comes to designing your kitchen and bathroom, the choices can be hard and the decisions? Even harder. And with so many options for styles, finishes and everything in between, it can seem almost impossible to narrow down how you want your space to look and feel. Ahead of the 2019 Edmonton Fall Home Show, we caught up with Vancouver designer Jamie Banfield to talk his take on some must have trends, tips and design tricks to create your dream kitchen and bathrooms. You can catch him on the Main Stage at the Edmonton Expo Centre October 18-20.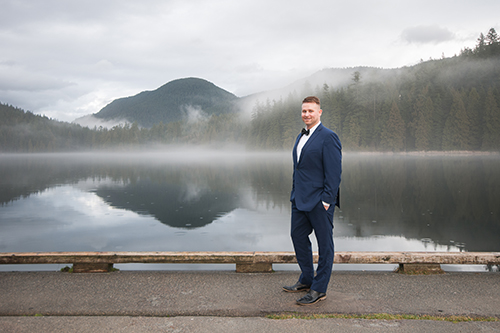 Trend Alert #1: Natural Stone
"There has been a huge trend towards natural stone in homes, or the look of them anyway," says Banfield. "On a budget, there are some amazing products like large format porcelain tiles, with a ton of very high quality printing options that include great properties like stain resistant finishes. These tiles look and feel like natural stone and since you can technically print anything on this tile, we are seeing awesome modern takes on traditionally used stone images and really fun applications."
Trend Alert #2: Industrial Kitchens and Spa Bathrooms
"Another trend shift I've seen coming up is the surge of industrial style kitchens and bathrooms," notes Jamie. "This trend is likely pushing for different applications of tile like entire walls of tile, floor-to-ceiling applications, lots of subway, natural stone and patterns as well. But even though you've seen these styles in high-end kitchens and extravagant spas, depending on the tile and pattern, this installation doesn't need to break the bank!" His tips? "Terrazzo is making its way from Cali ,New York and Australia. Concrete tiles for walls, floors and also large slabs for countertops, bench seats and other really cool applications. With aggregates that can be large, small, pink, blue or mute tones, this trend is making its way to residential projects fitting modern, transitional and eclectic styles."
Jamie's Tips #1: The items you shouldn't skimp on
For Jamie, renovating a home, whether it be for your own use or an investment, there are just some elements that you must invest in quality. These items are ones that are often used and touched the most which means that if you don't invest in the best, you'll notice it the most. "In the kitchen, you really want to invest in high quality appliances, hardware, and your sink and faucet. The bathroom is a little less "luxurious" but really never skimp out on your plumbing fixtures, toilet, and lighting. Always need great lighting!"
Jamie's Tips #2: Simple refreshes
When it comes to just wanting to update your space, you really don't have to gut everything and start over. In fact, with trends and feels changing almost on a daily basis, it can really hurt the bank. For Jamie, there are a couple smaller items you can update that will really impact the look without having to gut everything to start over. "First thing I would do is start with the hardware-- knobs, pulls in the kitchen and towel bars, paper holders and such in the bathroom. Then even just updating the mirror and new lighting can really change up a place." notes Jamie. "These are an easy switch out but you'll definitely notice a difference." For some more invest-y items you can look at your bathroom vanity, faucets or a new kitchen sink. "What's great is that all these items can be driven by personality and you can really choose some of finishes to add extra style."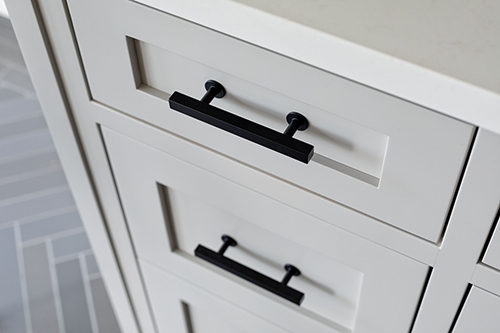 Needing some more savvy advice? Catch Jamie Banfield on the Main Stage this year at the 2019 Edmonton Fall Home Show. He'll be sharing more tips and tricks on achieving a designer kitchen on a budget at the Edmonton Expo Centre October 18-20. Get your tickets now and SAVE $2!