2018 COOKING STAGE PRESENTED BY ITALIAN BAKERY'S MERCATO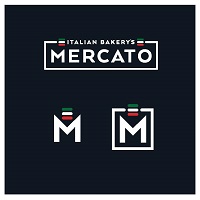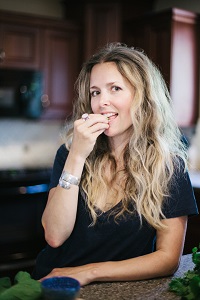 AMANDA COOK
MORE LIFE
Amanda is holistic nutrition practitioner, lifestyle coach, wellness educator, holistic chef, teacher of meditation and a busy mama of two with a deep passion about transformational health that nourishes the mind, body and spirit. Amanda loves sharing how to simplify whole body nourishment with a balanced diet using clean ingredients, nothing fancy or complicated as well as supporting clients to create healthy habits that align with their dreams. Amanda is the author of four e-books, teaches cooking classes, runs retreats and women empowerment circles, supports clients across Canada and teaches workshops sharing that health and simplicity can co-exist. Join Amanda's community through Facebook or Instagram at @moreholisticlife

Presentation Topic: Nachos with Vegan Nacho Cheese

Presented By: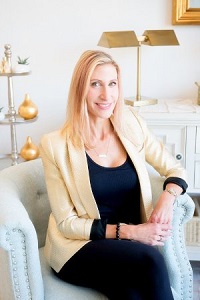 Marnie AshCroft
Glow Juicery
After 15 years in Business Development & Project Management in both IT & custom Home Building sectors, Marnie Ashcroft decided to follow her true passion for personal wellness, and established a company that would seek to educate her community about cold-pressed Juices, Raw Food and their healing benefits. The vision of Glow Juicery was to create a company that would connect people with raw, cleansing, & healing, natural cold-pressed Juice and food options, and create a sustainable approach to food & nutritional wellness. Glow Juicery is focused on one mission: To bring inspiration and motivation to every person wanting to feel empowered about what they put in their body. Food is Medicine. Food is Fuel. Marnie's passion for wellness and fitness, and ongoing support of community & non-profit organizations, has encouraged Glow Juicery to rapidly grow and connect with those seeking to change the way they interact with food. Her company developed from a small kitchen concept to 3 locations serving more than 3000 clients in her first 18 months. Celebrating 5 years as Canada's leading cold-pressed Juice company, Glow Juicery now has 12 locations and 40 strategic partners & re sellers from coast to coast, including Sherwood Park, Edmonton, Kelowna, Regina, Red Deer, Vancouver Island, Hamilton Ontario and Prince Edward Island. Marnie Ashcroft & Glow Juicery have been featured on Breakfast TV, Global Television CTV Morning Live and CTV Health Report, Dinner Television, The Edmonton Journal, Flare Magazine, YEG Fitness Magazine, YEG People, Alberta Cancer Foundation's LEAP Magazine, & Avenue Magazine. Marnie was recently awarded the Global TV Woman of Vision Award & the AWE Emerging Entrepreneur Award

Presentation Topic: Glow Juicery Founder, Marnie Ashcroft, will show you how to create simple, deliciously detoxifying Juices using local & seasonal options.

Presented By: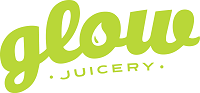 GLORIA BEDNARZ
THE ART OF CAKE
Gloria Bednarz and Guenter Hess are pastry chefs and the creative spirits behind each delectable masterpiece you can find at The Art of Cake.

Gloria has come from growing up on a family farm and using what local food they could grow and what was available to them. From growing their own vegetables, picking wild strawberries and raspberries to watching her mother and grandmother bake bread and produce their own butter.

The love of food and eating as a beautiful experience, resonated with her from a young age. She now has put her own twist on her past food experiences and continued with textures, homestyle flavours and colours.

She has followed her passion of cake decorating, baking and surrounding herself with people who also enjoy what they do. She has a successful team around her to help her produce some of the best desserts and cakes in the city. Her flair for vintage with a modern twist and classy elegance, creates cakes and dessert tables fit for any wedding or event.

She has fulfilled her dream of owning a café and with the addition of an experienced chef, they have now expanded into the lunch scene.

She is in high demand as a wedding cake designer and well known on various social media forums such as facebook and instagram. She believes in supporting her local community through different ventures, participating with donations and involvements with fundraisers & events

Presentation Topic: Gloria will be demonstrating basic cake decorating techniques. She will demonstrate some different buttercream finishes and how to adorn them with fresh flowers, hand sculpted flowers and leaves.

Presented By: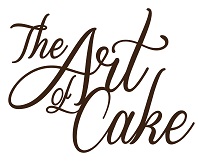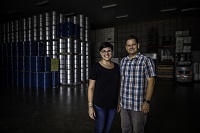 AMBER OZERO
GOOD MORNING HONEY
Good Morning Honey is family owned and operated. We are located near Stony Plain in Parkland County, Alberta. Our apiaries cover a diverse area of natural land and farms just west of the capital city of Edmonton.

Good Morning Honey produces some of the world's finest honey enjoyed by many across North America as well as Asia and Europe.

Presentation Topic: They will be making healthy power balls made with their honey.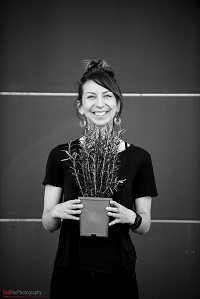 AGNIESZKA WAJDA-PLYTTA
HERBOLOGIE
Aga is the founder of Herbologie and main curator of all products and recipes. Her vision is to showcase the simplicity + functionality behind spices and herbs while encouraging the conversation around how botanicals can complement any culinary experience. She is inspired by the origins of botanicals, fellow herbalists and chefs from across the globe and her own use of botanicals to complement her active outdoor lifestyle. From individual spices to botanical blends, every decision she makes is to provide you with socially responsible, high quality ingredients that you can enjoy everyday.

Presented By: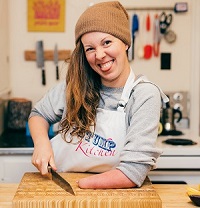 ALEXIS HILLYARD
STUMP KITCHEN
Alexis Hillyard is a YouTube Creator, self-taught vegan chef, and entrepreneur. Born without her left hand, Alexis uses her stump as a kitchen tool - from spatula to juicer - while expanding the vocabulary of what's possible in the kitchen each week on her show 'Stump Kitchen.' Stump Kitchen celebrates body diversity, gluten free vegan cooking, and the amazing, unique ways we move through the world. In 2016, Stump Kitchen won Best Food Blog in VUE Magazine's Best of Edmonton.

Presentation Topic: Vegan BLT Ceasar Salad

Presented By: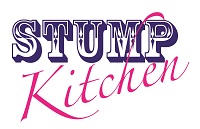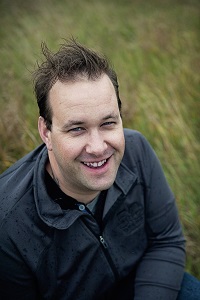 KEVIN ZELLWEGER
THE QUARTER SECTION
Kevin Zellweger is the co-founder and owner of the Quarter section food co, a baking and catering company focused on organic, local and sustainable food. Kevin got his start in food as a child in his mother's farmhouse kitchen, and has not stopped cooking since. although his formal training is as a commercial pilot and he has also operated his own construction and renovation business for the last 17 years. not having formal culinary education has allowed him to stay as an ever learning student of food.

Presentation Topic: Demonstrating how to make sourdough, and give some pointers on bread baking as well as highlighting our local organic ingredients.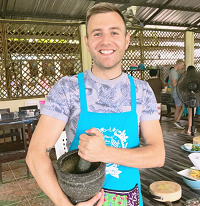 JUSTIN GABINET
ARCHBISHOP JORDAN CATHOLIC HIGH SCHOOL FOODS PROGRAM TEACHER
Justin Gabinet is a teacher at Archbishop Jordan Catholic High School is Sherwood Park Alberta. He runs the Foods program as a full time teacher focusing on the science and history of food in various Alberta curriculum for Career Technology Studies. Justin graduated from the University of Alberta with a Bachelors in Education focusing on Food Studies. Justin is very passionate about all things Food related. He loves to research every Food that he teaches to ensure his students get the fullest picture of what they are making and consuming. He strives to create a program that ensure students finish the semester with the knowledge of not only how to make something from scratch, but the enjoyment of making real food. Justin recently came back from teaching Foods in Summer School in Guangzhou, China. His favorite part of his Asia trip was the cooking class he took in Thailand. His Food Heroes and influences include: Julia Child, Auguste Escoffier, Jamie Oliver, and Nigella Lawson.
TERRY SEPT
SMOKEHOUSE BBQ
My wife Sherry and I started Smokehouse BBQ 6 years ago, my love of BBQ started early on in my life and continues to this day, I have had the opportunity to travel to many different countries around the world and eat a lot of BBQ and smoked meats from the Middle East, Far East, South America, Europe and the home of western BBQ the southern USA, through my travels I have learned from some of the Kings of BBQ including Myron Mixon and Mike Mills. Our food is very simple wood and fire cooking but is also very detailed in preparation and with the use of spices, rubs and sauces we bring some of the most under used cuts of meats to life.
We opened our first Smokehouse BBQ restaurant in 2011 and continue to grow our restaurant ,catering and food truck business from our Mayfield location, come and give us a try, Blues, Brews & BBQ, come get you some!

Presentation Topic:
Our presentation will be talking about Smoking/BBQ in general and preparing our signature dish the "Bacon Bomb" a bacon wrapped pork meat loaf stuffed with Jalapeno, cheese, bacon, bbq sauce and rub, smoked for 4 hours and then sliced to serve .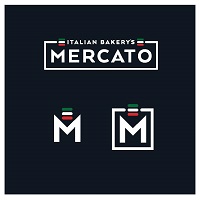 DAN VILLETT
ITALIAN BAKERY'S MERCATO
Dan is currently the in house chef at the Italian Bakery's Mercato. He was a chef at Red Star and trained for 2 years at Corso.

Growing up in the Italian culture, we learned the significance of sharing a meal with family. Food was art, meals were made with attention, care and pride. Using only fresh and quality ingredients. It was an expression of love. Italian Bakery's Mercato has taken that knowledge alongside with our experience in the industry to create a place where friends and family a like can gather, shop and enjoy. It's not just a market to us, it's our lifestyle, where we come from and what we hold most important.

Presentation Topic:
Fresh pasta dough and fresh basil pesto sauce.